Day by day, Microsoft updates new products and solutions in accordance with the needs of the users, which has often been blissful. However, this flux in innovations has made things much easier and innovative.  
Perhaps, Power Platform is one such novel yet impactful innovation. Forrester Research report, which combines multifarious interview and survey output with multinational and SMB's, reveals that Microsoft Power Platform's environment considerably reduced application development time. And empower developers to create custom software applications, slashing development costs by up to 74%.
Let's look at it more profound in this blog.
Why is Microsoft Power Platform Considered as Important?
In this technological era, we are bound to rely on data, and the data created by companies are increasing at a greater pace. Meanwhile, all the data has to be taken care of with utmost importance, as it becomes useless until and unless the firm earns a tangible value.
IT or the Development team is solely responsible for analyzing data, creating apps, and automation. And this requires staff to meet the requirements and submit the given requests to the respective IT departments. 
Henceforth, it will be approved, and then they have to wait for further proceedings or it to get built. In fact, this is a time-consuming and expensive process. Moreover, clients requesting would of course, need an immediate response, but this lengthy process would take time and may internally cause delays.
This is the reason why Microsoft Power Platform is in high-demand. It enhances data democratization and can digitally transform information easily accessed even by a non-technical user. Its four technologies help the staff handle more data on their own with little or no coding knowledge. It provides a much easier way for almost all the users to automate, create, or analyze data, even for average workers.
Let's delve deeper to know more about the four technologies used- Power Apps, Power BI and Power Automate.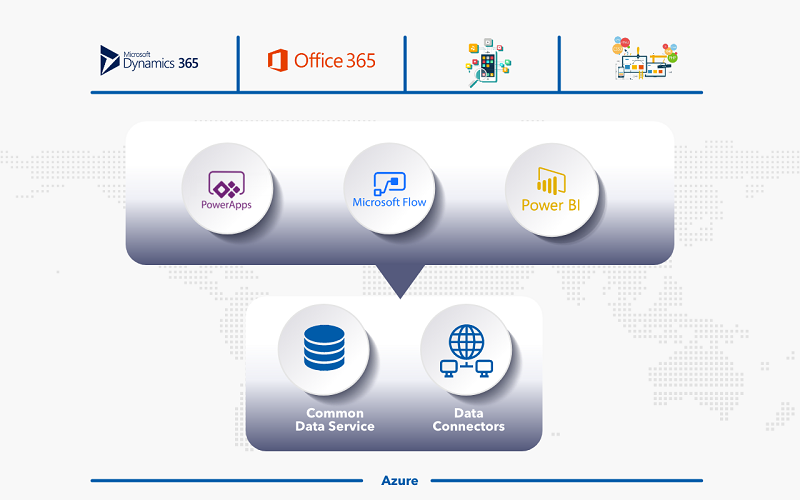 This is an initiative made by Microsoft that helps developers and non-technical users create apps on a click from customized templates. Such an app can be used in Windows, iOS, Android, and almost all internet browsers will support it.  It has a low-code approach for app development. 
Moreover, it builds apps that are mobile friendly and reduces the pressure imparted on IT professionals. It makes app development as easy that even a non-technical user can manage to make it.
The use of Power Apps is not limited as it is used for many processes that involve data visualization, collaboration, automation, data reporting, and many more. Besides, they can be used in a simple to complex ways, depending on the user's need (where users can be field workers, management, and customers.
One of the other reasons that Power App is considered important is its least complexity in connecting it with the other available services (SharePoint, OneDrive, Excel, etc.). 
In fact, Power Apps can also be connected with services other than Microsoft like SalesForce and on-premise. Moreover, those apps are easy to share too. PowerApps gives an exclusive platform for pro-developers and to enhance their interaction.
One of the other highlights of PowerApps is that it does not need prior coding experience for users, as it uses the most simple and basic Drag and Drops method. It is all about bringing the desired tools of the App into a single space. And your App will be ready.
Power BI, or Power Business Intelligence,  is a group of software apps, services, and connectors that work together to make your data sources into more interactive ones. At times, it even includes an Excel spreadsheet.
It helps to make automated workflows within the services provided by Microsoft or any third-party alliance. This gives a relief to the staff from carrying multiple tasks at a time and thus can save their time. Power BI lets you use pre-built templates for automation rather than common automation.
It helps in creating your own automation like SharePoint Dynamics 365, Outlook, Twitter, Gmail etc. In total, Power BI allows you to decrease manual errors and save time.
Unlike PowerApps, Power BI requires people with prior technical knowledge. It is a purely Technology-driven approach with computer programming familiarity. It requires skills like Interpersonal skills, communication skills, deep industry knowledge, problem-solving skills, data analysis and many more.
Power BI is made up of several other apps like Power Query, Power Map, Power Pivot, Power View and Power Q&A, each with its own uses.  Some of BI's main competitors include Google Data Studio, IBM Cognos, Jet Reports, TIBCO spotfire,  Qlik Sense, etc.
Another interesting fact about Power BI is that the users can easily customize it according to their needs. In fact, custom reports can be easily created by visualizing data in your own way.
It was earlier called Microsoft Flow. This service allows you to build automated workflows in between apps and services. Power Automate simplifies complex business processes. It aims at automating data in low-effort, less time-consuming, data collection, pinging, etc. 
Besides, it prioritizes tasks for employees. For instance, when one receives more than 300 emails a day, it would really be challenging to check out each one of them, including ones with high importance. And missing them can trouble them. This can be quickly sorted out by Power Automate, where you can set up templates.
Besides, Power Automate can be categorized into three types, namely:
Automated Flow- This is something that gets activated prior to a pre-selected event. For example, if a holiday notification is updated, then all the employees of the firm will receive notifications. It can compete with companies like IBM, Oracle, and Tableau.
Scheduled Flow- This occurs at a specified period of time, like daily getting notified about an upcoming event.
Button Flow– It is a flow activated by pressing a button.
Just like any other service, Power Automate also has many alternatives in this business world. However, some of the alternatives to Power automation include IFTTT, Tallyfy, and Zapier.
The power virtual agent is an intelligent platform to create powerful chatbots that converse with your website's customers or visitors. Microsoft power platform lets you create your ideal chatbot without any developers or senior data scientists' help.
The power virtual agent's service can be availed into distinct forms; the first is – as a separate web app and the other option – as an app and Microsoft Teams. Based on the way your business is required to use power virtual agent, you can opt for the best option.
Power virtual Agent- Web App:
Power virtual agent servers as a Software-as-a-service. With this, you can explore Microsoft's powerful conversational AI capabilities that enable your users/customers to have rich multi-turn conversations.
Plus, Microsoft power platform gives all the space to build your kind of conversation with the graphical editors to get eh bot ready for handling customer queries.
What makes the power virtual agent web app outstanding is its ability to take action. Enterprises can easily integrate power virtual agent apps with back-end-systems and services with custom connectors using power automation.
Besides, it also monitors the performance of the bot with intelligent metrics. Analyzing the performance of the bot based on the input, power virtual agent gives a clear idea that performs well and needs improvement.
In addition, power virtual agent works along with Microsoft Dynamics 365 customer service insights. It helps to draw a holistic view of the customer operation across the business boundary and helps to compare the performance.
Power Virtual Agent- Microsoft Teams App:
Power virtual app can also be used along with teams App. It helps you to easily create internal chatbots that can answer the questions of employees/ team members. Further, for the below scenarios, you can use power virtual agent -teams app
The payroll department can create a chatbot to help teammates get tax filing forms and information and other generic queries.
Operation managers can create a chatbot that answers the common questions they are receiving about returning to work updates in this time of crisis.
Human resources (HR) team can create bot that can answer questions about leave balance, time off, and employee benefits.
The finance department creates a chatbot that helps their teammates to fill out expense reports.
How can I access the Microsoft Power Platform?
As Power Platform is not a licensing bundle as of now, each product can be bought individually where we can either try it free or trial versions.
Three Versions of Power Platform:
As of now, there are three different versions of the Microsoft Power Platform. They are:
Though Microsoft Power Platform has many possibilities, it can be complicated to think about where to re-structure the known difficulties. However, it eases out the twisted roadway to deploy intelligent business solutions across a business setting. And still, Microsoft has a long way to travel as it can be a one-stop-shop in the future.