Contact us through our representative or submit a business enquiry online.
Microsoft Dynamics CRM is our customer relationship management (CRM) business solution that drives sales productivity and marketing effectiveness through social insights, business intelligence, and campaign management in the cloud, on-premises, or with a hybrid combination.
Customer relationship management (CRM) can help reduce costs and increase profitability by organizing and automating business processes that nurture customer satisfaction and loyalty in the sales, marketing, and customer service fields. CRM solutions can deliver ROI through marketing automation, customer service, and sales force automation. With tools to enhance the company's sales, marketing, and customer service processes- along with native Microsoft office outlook integration, Microsoft Dynamics CRM delivers a fast, flexible and affordable solution.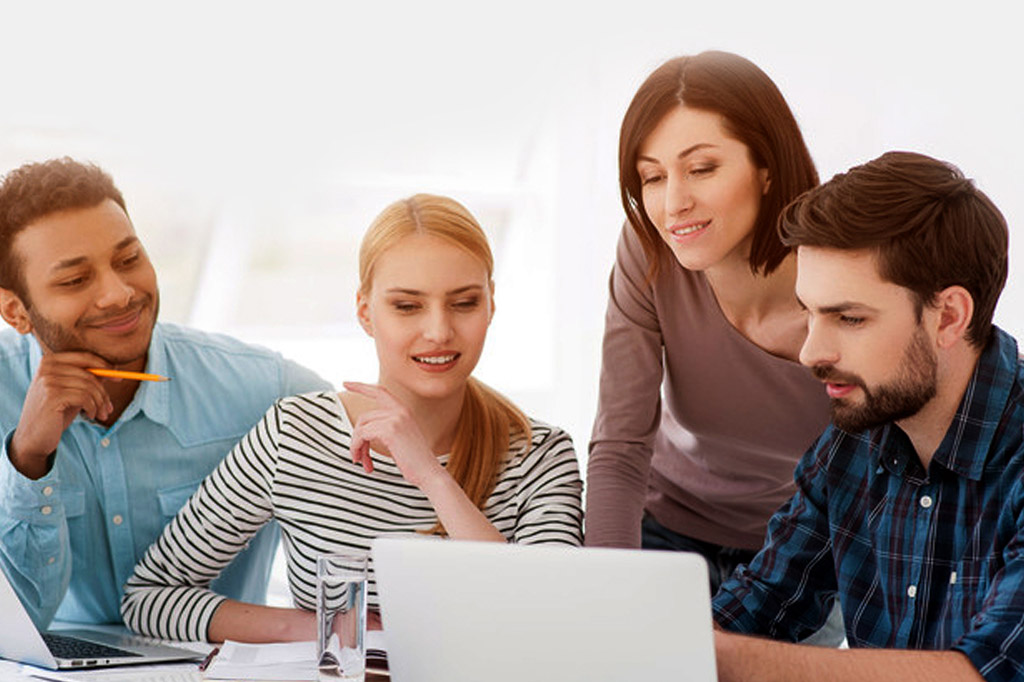 Microsoft Dynamics CRM solution
Running a successful business is no simple task. When marketing campaigns, data analysis, meetings, customer care, and more all happen simultaneously, you need a powerful CRM solution to bring all these functions together.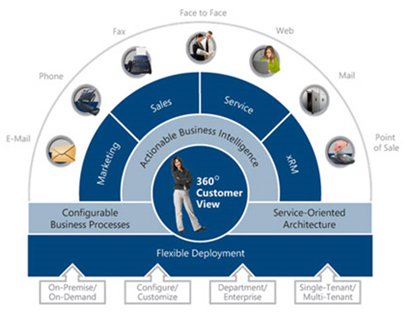 Sales must adapt to the new customer journey. Sales teams need tools that are familiar, intuitive, and easy to adopt to help them be more effective. Discover resources that can help you sell more and drive results. Learn now how Microsoft Dynamics CRM can help you to drive more sales:

Actionable insights
Focus and act on the right priorities
Increase sales velocity by identifying prospects most likely to buy based on predictive intelligence
Know where to focus with insights that reveal relationship health and risk
Spot buying signals, identify competitive threats, and keep a pulse on the market with social media
Engage your customers in more personalized, effective ways through customer intelligence

Sales productivity
Spend more time selling and less time on administration
Work anytime, anywhere with familiar, intuitive productivity tools, such as mobile apps that provide contextual news, social data, and task flows
Know what steps to take next to close deals faster by using process automation and a guided sales process
Recruit, onboard, and strengthen your partner channel through deeper enablement and activation

Sales performance
Create a culture that nurtures success
Get answers fast using dashboards, contextual charts, and Power BI Q&A for natural language queries
Hit your numbers by setting goals, monitoring results, and providing feedback and coaching in real time
Ease onboarding and align sales behavior through sales management software and interactive help and documentation
Energize everyone on your sales team with fun and exciting competitions through gamification
Provide responsive, relevant, effective service—anywhere, any time, on any device. Inspire loyalty, empower agents, and drive service resolution. With our service capabilities, you can:

Omni-channel engagement
Connect with customers anytime, anywhere
Use a unified platform for consistency and visibility across channels
Get deeper insights with a 360-degree customer view
Personalize interactions based on past interactions and behavior

Unified knowledge
Give agents and customers answers on the spot
Deliver the right answers at the right time across channels
Capture content from social media, service interactions, and experts
Understand how your knowledge base is being used with rich analytics, helping you improve and add information based on customer needs

Digital intelligence
Be proactive with built-in digital intelligence
View real-time key service metrics through fully customizable dashboards
Automatically detect sentiment and intent on social posts using built-in intelligence
Resolve issues faster by using machine learning to reference relevant articles and cases
Get quick insights to help identify trending issues
Microsoft Dynamics Marketing helps you engage your customers as you bring your marketing vision to life. With our marketing capabilities, you can::

Campaign orchestration
Connect sales and marketing
Deliver consistent messaging between sales and marketing
Increase retention rates, reduce sales cycles, and increase close rates
Drive revenue and marketing ROI with campaign management tools

Web experience foundation
Create better customer experiences on a secure and scalable digital foundation
Manage content using dynamic marketing software on a platform that scales globally
Create and deliver digital experiences faster
Lower management and resources costs by using a single provider
Rely on a platform that's compliant with government, industry, and corporate standards

Social
Marketing teams use social insights to make their campaigns sing. Customer care teams use sentiment analysis to understand customers and to make interactions more meaningful. With our social capabilities, you can:
Turn sentiment into opportunity with Microsoft Social Engagement. Monitor brand presence and track strategic initiatives across marketing, sales, and customer service.
Make every conversation more relevant with social insights that help you get to know the person behind the contact data.
Engage with your customers on any channel, and provide service on their terms. Care everywhere to create customers for life.
Industries
Case Studies
Testimonials Vivek Ramakrishna
@vivekramakrishna
ZiniosEdge have provided a valued service in helping Globalsoft lay foundations in India. Their flexible infrastructure solutions and their knowledgeable advice on local market practices have allowed us to stay focused on our business and its growth.​ Ankit Soni​
@AnkitSoni
It was very nice time having been in touch with you while taking up our recent project for updating new database in Microsoft Dynamics. I would like to thanks and congratulate to you and your team who has performed very nice and swift action to fulfill this project in less time and efficient way.​ Deepinder Singh​
We chose ZiniosEdge to build and implement AgriSys ERP for our business after exploring several standard products. It is a complete software which has most of the modules required for Seed industry.​ Sugato 'al' majumdar
"We have worked extensively with Zinios(now ZiniosEdge) over the past 3 years and have been delighted with their work. They have developed a CRM system in record time for us that replaced our old Capillary system resulting in large savings of a significant monthly subscription charge. There have been continuous improvements made to the system including a critical integration with a third-party POS that allowed all vouchers issued by MRL to be fully validated by the POS. This eliminated errors, misuse and also made us more GST efficient. I know Zinios (now ZiniosEdge) has been involved in many exciting and cutting-edge developments including AR (Augmented reality) projects that could find applications in the retail space".