Supercharge Customer Interaction
With Our AI Chatbot- ZEVA
Contact us through our representative or submit a business enquiry online.
ZEVA is an AI-powered conversational chatbot that lets businesses do more than just chat. ZEVA automates conversations for customer support, lead generation, visitor engagement, sales, and much more. Zeva is designed to offer an omnichannel customer experience through websites, communication channels, and can be used as an AI-virtual assistant with the industry's best solutions.
Intelligent and personalized chat prompts
Multi-language chat and voice support
Human-like emotional and behavioral chat
Quick conversation switching from bot to human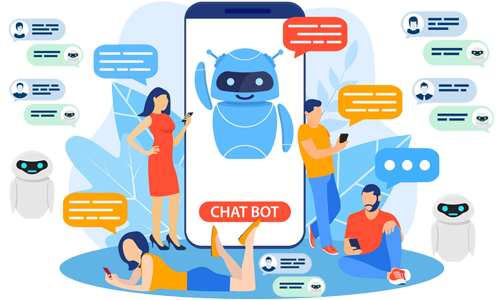 Double Your Conversion Rate with ZEVA -The AI ChatBot

Prompt Customer Response
ZEVA is an AI virtual assistant that helps you to reduce customer response time and thereby enhance conversion rate phenomenally

Better Resource Optimization
ZEVA will take charge of customer support and you can use your resource for other productive activities. It is more than a chatbot that can offset human virtual assistants

Enhanced Lead Generation
ZEVA helps you to qualify the leads faster and navigate the prospects to the right point of contact along with better customer experience
Intelligent Chatbots can Improve the Responsiveness and Efficiency of Your Company's Customer Service Practice

Easy Chatbot Deployment
Businesses can deploy ZEVA in no time. With its easy configuration functionalities and pre-packaged modules, ZEVA provides the ultimate freedom to offer a better customer experience 24/7.

Futuristic Virtual Assistant
As an AI-chatbot ZEVA is all set for accommodating the dynamic customer engagement requirements. It scales up based on the business requirements.

Pre-packaged Chatbot Modules
ZEVA offers easy integration with its pre-packaged modules that will finely align with different business models and industry sectors. Be it a product website or an HR app, ZEVA will take care from day one.

Multi-channel Customer Service
With the power of Artificial intelligence, ZEVA eliminates resolution delays by improving first contact resolution time. Also, this AI chatbot offers 100% customer satisfaction across all communication channels.

No-touch Sales Experience
ZEVA reduces human intervention in the sales funnel and directly drives the prompts to the right points answering all the queries the same as a human in the process.

Custom Intent Management
Manage the intent based on your business proposition and based on the purpose of the engagement. Users can create new intent with the chatbot and customize the chatbot for website or the channel it is employed.

High Data Security
ZEVA makes sure the data exchanges between customers and companies are secure and keep them confidential.

Custom UI
Deck up the AI-chatbot with the matching theme, images, message tone, and much more. ZEVA offers the freedom to built your kind of AI-chatbot on ZEVA

Reports & Archives
Get insights instantly into your customer engagement performance. Get the trends from the archived data from the conversation.

Virtual Assistant- Customer Service
ZEVA can assist you across billing, account management, reporting, reservation, tech support, status tracking, and much more

Virtual Assistant- Marketing & Sales
ZEVA can serve as a purchasing assistant, upselling agent, conversation assistant, guide, and much more

Virtual Assistant-Company Operation
In an enterprise, ZEVA can be in charge of the help desk, HR assistant, Internal Liaison, document manager, tracker, and much more
Never Let a Customer Query Go Unanswered
Services
Case Studies
Testimonials