Software Product Engineering
Contact us through our representative or submit a business enquiry online.
ZiniosEdge's Software Product Engineering
We engage with our customers to create their IPs/Products, not just on traditional outsourcing relationship but extending on to strategic partnerships by empowering our customers to own outsourced product engineering team. Over the years, ZiniosEdge has gained the reputation of being one of the best offshore product engineering companies in Bangalore, India. It has been successfully providing agile product engineering, DOTNET product development, Microsoft technology experts on product engineering, experts of product development on AI/ML, Cloud Mobility, Web Desktop solutions, Data Analytics, Cloud solutions and Enterprise software product development.
Software product development is more challenging and complicated as a project over software application engineering; for, the owner of the product has to think through right from the ideation to product creation and then go-to-market strategies. It involves insightful thinking processes to make the right decision that can have acceptance from wider users, competitiveness, usability and user experience, adopting the right technology, the right architecture, time-to-market and finally the Return on Investment.
ZiniosEdge has embraced Software Product Engineering as its core business focus even since its inception. Our dedicated team that brings decades of experience together sees to it that great emphasis is laid on meeting the demands of product creators, Independent Software Vendors (ISVs) and product companies who outsource their product development to ZiniosEdge. We assure you of software product engineering services that can help reduce costs and offer quality products, delivered within your estimated timeline.
With more than a decade of software development experience, and having delivered several products designed for diverse business problems of global enterprises, we bring to our customers our rich experience and expertise of identifying the right technologies, right processes, right architecture, productive tools, frameworks and communication methods.
Capabilities Of ZiniosEdge
With our software product engineering services, we help our customers envisage a roadmap of success and growth in their business. Our objective is to ensure that outsourced software product engineering services prove to be reliable, efficient and cost-effective for our customers.
Our software product engineering service apabilities encompass the entire end-to-end process of software product development, which involves the following stages:

Research and Development around the idea of the product

Software Product Development throughout its entire lifecycle

Quality Assurance and Testing of the product built

Implementation of the product

Support and Maintenance of the product
Software Product Development is the methodology used for structuring, planning, and controlling the process of developing products. It involves a lot of ground work to define the product vision, consider product sustainability and ensure business success. A product development initiative must guarantee quality and work towards a specific release date. We understand where your priorities lie. We build a product roadmap jointly with you, and work towards building the product within your targets of budget and timeline.
We understand the nitty-gritties of technology and the need to be at par with it. Hence we provide product maintenance partner, product support partner, offshore partner for product development support maintenance, product migration partner, product enhancement partner, React Angular NodeJs product development experts, mobility product development partner — you name it, we are at it!
Product Development Approach Followed At ZiniosEdge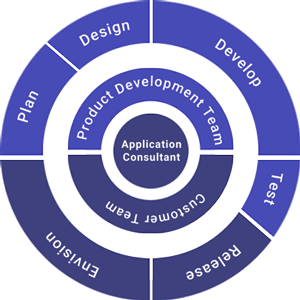 Working with us guarantees you product development speed, product quality and cost savings. Throughout the project of product development, our core product development team works with your visualization team. While you can focus on strategic initiatives, our team focuses on production and feature enhancements.
Software Product Development specialists from our core team play the sheet-anchor role and oversees the entire project through the stages of Software Product Development Lifecycle to ensure that the implementation process is carried out smoothly, and ends successfully. Our Product Specialists also ensure that on completion of the project, you get what you had initially wished for.
Our software product development services ensure the following most desirable goals for you:

Assured Return on Investment


Increased development productivity



Quality software products
ZiniosEdge's Outsourced Software Product Engineering services includes:

Ideation, Requirement Analysis and Prototyping

Software Product Design and Architecture

Software Product Development


Software Product Enhancement

Software Product Migration

Software Product Support & Maintenance
Our professional services around software product engineering also include:

Building proof of concept, Architecture and Design Consulting


User experience and UI consulting

Cross platform, SaaS and Paas based business modelling to Cloud consulting

Add-on, component development consulting

Product Integration consulting
Our Product Development Engagement Models

Offshore Software Product Development

Hybrid development of combining Customer-ZiniosEdge resources
Independent Software Product QA and Software Product Testing
Quality assurance and testing are extremely essential to identify defects in the software development cycle and need to be introduced at the earliest stage of the project, guaranteeing the delivery of quality products.
ZiniosEdge Testing (ZET), the independent Quality Assurance and Quality Control division of ZiniosEdge offers testing and verification services for software products. We evaluate the development process followed, and ensure that the developed system conforms to the technical requirement specifications.
Our comprehensive testing methods and tools ensure cost-effective and high-quality solutions, delivered on time. Our processes are handpicked from ISO and CMM standards and framed under Software Quality Assurance (SQA) to address the quality assurance needs at every phases of the development lifecycle.
ZET's services include testing of Functionality, Usability, Performance, Reliability, Installation, Compatibility and Scalability. As an independent testing and verification authority, ZET takes care of the following, for its Partners and Customers:
Project reviews at every significant stage
Dedicated testing resources and teams
Online bug reporting tool and redressal system
We maintain a close coordination between the project owner and project organization for smooth functioning of our testing unit throughout the development lifecycle, so that you can deliver defect-free solutions to your customers worldwide, and win the acclaim your potential deserves.
Software Product Enhancement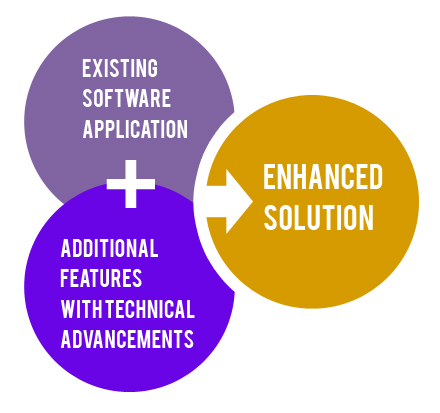 Evolving technology necessitates the need for superior solutions, enhanced products, and improved features. Product companies need to keep pace with such dynamic changes offering new enhancements and features within a short time-frame to sustain their position in competitive markets and retain their customers.
Another challenge faced by these companies is to manage product up gradation and maintenance at later stages of a product life cycle which is cumbersome due to multiple product versions.
Our dedicated product management team combines decades of experience working on many enhancement projects addressing diverse needs. They keep themselves abreast of technology, while offering consulting on market demands, business dynamics and client needs. Also, practical researches enable them to advise the client on market predictions so they can incorporate features that are fairly advanced.
The enhancement requirements could be related to:
Software Product Enhancement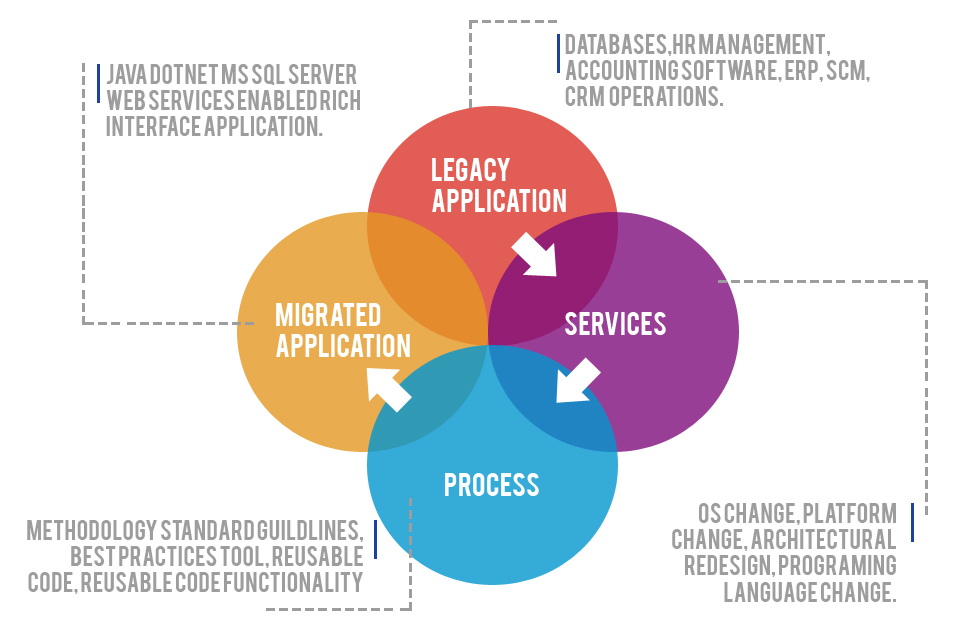 New software technologies are emerging every day and companies are facing the need to upgrade to the latest state-of-the-art technology. If you are torn between being satisfied by your current software solutions and desiring to embrace new software technologies, without compromising on the existing features; ZiniosEdge is your answer. At ZiniosEdge, we give you an edge with software product development on migration porting enhancement.
ZiniosEdge helps you keep pace with the technological innovations through seamless step-by-step migration services from research, planning, data preparation, conversion, testing, to implementation. To accomplish this, the current constraints and limitations are comprehended and the product is refurbished to be more scalable in the future.
Capabilities Of ZiniosEdge
Software Product Support & Maintenance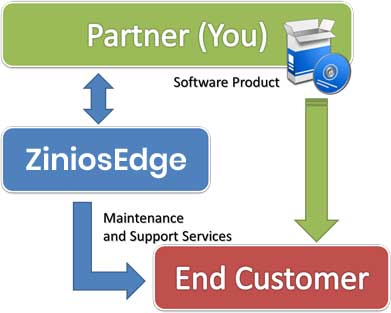 As soon as the product reaches your customer, it requires extended maintenance and support. It helps to stabilize the product in the market and strengthen the partner-customer relationship to create a win-win situation. Product companies equipped with dedicated product support teams can quickly respond to a customer's situation and deliver comprehensive product support solutions.
ZiniosEdge enables its customers to focus primarily on their core initiatives by providing reliable, high-quality product support and product maintenance services to their end customers. Our team with domain and technology expertise addresses diverse needs of the customers.
The product maintenance services offered are for
An existing solution/product needs ongoing support and maintenance service
The take-over of half-completed development along with post-development support and maintenance
End-to-end service for managing the entire product development lifecycle
If you are thinking of outsourcing business support services, your search ends at ZiniosEdge. We render tech support services, database managed services, application management services, product management services, customer support services, content management services, cloud management services, UI/UX development services and data management services. We are one of the top business support services companies in India.
Industries
Case Studies
Testimonials